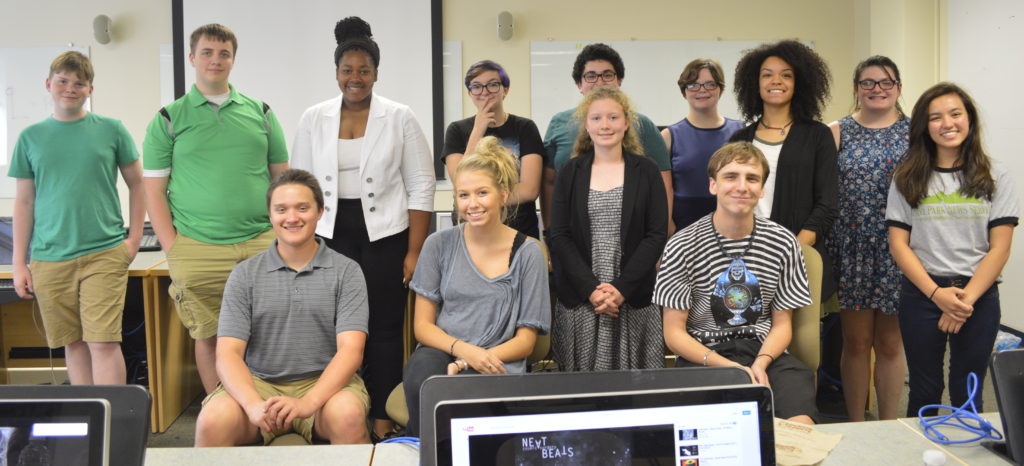 2016 Multimedia Storytelling Workshop
Hi my name is Ariana Cobb. I am from New Jersey and I am 15 years old. I attend Holy Cross Academy and will be a junior this fall. In the future I would like to become a fashion magazine editor after college. Please read my story, Fashion by Design.
Hi, my name is Elaina Harris. I am 15 years old and this fall I will be a sophomore at Pine Richland High School.I hope to go into a career in writing after college. This week I wrote a story about the new Mr. Rogers exhibit at the Heinz History Center.
Hi my name is Riley Moore. I am 15 years old and this fall I will be a sophomore at Pine Richland High School.  I hope to go into a career in journalism or writing. My favorite things are my brother, my friends, my dog, band, reading, and anime! This week I wrote a story about the ToonSeum, a local museum dedicated to honoring cartoons and animation. I loved this workshop because we got to explore all kinds of journalism and I had so much fun meeting new people and making new friends!
My name is Matthew Ryan Miramontes, I am 17 years old and I am a rising senior this year at Cornell High School. I am the editor of my school newspaper, an editorial writer for Pittsburgh Youth Media, a radio broadcaster for Youth Express, and someone who takes writing as a passion and job, more than just for fun. I wrote a feature story about one of my favorite places in Pittsburgh, Eide's Entertainment, which is a four level building dedicated to music, comics, and movies. Music is my biggest love, but Journalism and Writing are a close second.
Why hello there, My name is Julianna Kustra. I am 14 years old and going to be a freshman at East Allegheny Junior/Senior High. I have loved writing and reading ever since I was young. I am currently doing nothing in journalism right now, but I am writing a book. I love reading, writing, music, and most of all a blank notebook. My story is on how diversity in the performing arts ha shaped culture in Pittsburgh. You should go check it out! I personally loved this camp and plan on participating in it next year. My dream job is to become a lifestyle and travel blogger. I honestly think that I want to attend Point Park and that I will succeed in whatever I put my mind to.
Hello! My name is Isabella Langston and I am going to be a senior this coming fall. I am 17 years old and attend Cornell High School, where I am an editor of my school newspaper. I really enjoy playing sports (mainly basketball), listening to my music, reading, and drawing, but I would have to say that writing is a serious passion of mine. I had the opportunity to be at the Beaver County Times newspaper for a day and hope to work for Vice News someday. I'd like to share my knowledge and investigation with the world and to truly enlighten the audience. Please check out my story about how awesome Downtown Living in Market Square is, it's worth the read! Thank you Point Park for having me join the journalism workshop, it will help me a lot in the future.
Hi, my name is Nolan Allen. I am from Cranberry Township and I am 17 years old. I attend Seneca Valley Senior High School. I currently work on my school's TV station and I am the president of my school's Graphic Arts' Club. When I am not doing that, I am a drummer the band, Inbound. I also play volleyball. In the future, I hope to continue with music but I don't know. I guess we will have to find out!
My name is Amin Megherhi, I'm from Pittsburgh, PA, I am 15 years old and I attend City Charter High School as a freshman, I will be a sophomore in September. I recently got a job through my after-school program, School 2 Career working with two radio stations at the Children's Museum, Saturday Light Brigade and Youth Express. I play soccer in the fall and I swim in the summer. I play clarinet and I hope to begin playing saxophone and to learn more piano. I love writing and recently have begun writing short stories and poems. I hope to pursue a career in Photo Journalism and Entertainment Journalism.
My Name is Colten Oakes, I am 15 and  a multimedia student at Franklin Regional High School and student volunteer at Amplify Church in the greater Pittsburgh area. I plan to go into Television Production and Media Management following High School.