During the Pride Parade, one of the biggest LGBT Pride celebrations, there were concerts, street shows, and support shown for the Orlando shooting victims and all around support for LGBT people as a whole.
The most powerful part of the whole event was the minute of silence which was named '50 seconds to 50 victims', when the organizers and participants mourned the victims of the Orlando shooting.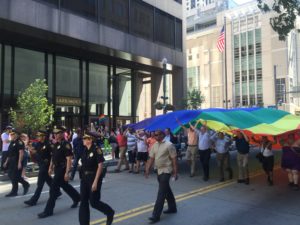 At the parade on June 12, they marched together to show equality and celebrated equal rights.
Olena Goncharova, of the Pittsburgh Post- Gazette, commented, "I find these people very open and kind, they make no harm that's why it's extremely sad to me that they experience so much intolerance and hatred. Unfortunately, in my county – Ukraine – there's also a stigma towards those people. I think LGBT+ community needs to educate other people more, organize different events aiming to show how many LGBT+ people become politicians, athletes, artists, fashion experts and more – they are talented and make this world better in many ways. Many people don't know about that."
"For LGBT+ community it's a joyful and happy time to express themselves and be the way they are with no need to hide parts of their personal lives," She said. "It's a true holiday for them. The rainbow-colored items, including clothing, jewelry and other accessories became instantly recognizable within and beyond LGBT+ community. For LGBT+ people it's not only a sign of life in its diversity, but also an indicator for safe places. Pride is a way LGBTQ+ people to live – without hiding their personalities, living a life with dignity and respect, to make sure they have the same rights and those rights are protected – at their workplace, while they get different services."
Goncharova said her initial plan in covering the Pittsburgh PrideFest was to focus on for the 2015 Supreme Court  decision influenced people's lives "I had to change my initial plan due to the news," she said, "But I still wanted to know did it make the process of "tying the knot" easier for LGBT people. As in Pennsylvania it became possible to register same-sex marriage in 2014, many of those whom I spoke to were already happily married. However, others say even though it opened a new realm of possibilities it also made them think twice on whether they want to settle down with this particular person. They don't want to rush with this decision. And despite this long-sought victory, there's still a long way towards acceptance of LGBT people in society. The Pride Parade gives LGBT+ people a chance for each other to feel their unity and gives a sense to the LGBT+ community that its size and struggles on the way to real equality is worth being fought for."
Jared Reichard, has been connected to the LGBT community through more than just his sexuality.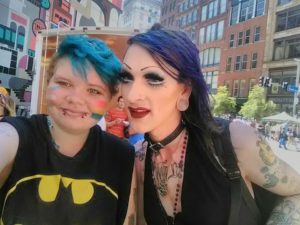 Reichard, organized events through his workplace, Sprint. He marched in parades, volunteered in events for a few years, and organized AIDS awareness for straight and LGBT relationships and did a few drag queen performances.
He formed the idea for the Sprint LGBT event after thinking about the community itself, Pittsburgh's rankings, and more.
"The LGBT community is very big in Pittsburgh and Pittsburgh's Pride Parade is the fourth biggest. I was mainly trying to make Sprint a known gay-friendly place and wanted LGBT people to know we are your allies," he said.
Reichard planned the event and knows it was well- received.
He used statistics to find that more than 50 percent of LGBT members switch to carriers that are LGBT friendly. He found this to be an attractive customer base.
Reichard said, "gay people have to right to be as miserable or as happy as they want."
He was very happy because he feels that once gay marriage was legalized it made his openly gay brothers future clearer and easier.
He wasn't directly affected through legalization, but said he would be "happy to see LGBT marriages succeed."
Justin Carson, a Pittsburgh native was extremely excited when he learned that gay marriage had been legalized. He remembers waking up that day and seeing a lesbian couple in Texas getting the first marriage certificate there.
Carson said "I don't think it was any more difficult, but now that I know I may actually get married here; it will make my future easier. I think I've been lucky, unlike a lot of other people, and prior to this I had an accepting family and friends that supported me. Before this I don't think I'd feel safe walking around holding a boyfriends hand, but now I would, I can."
He held a gathering with many other LGBT friends and had dinner to celebrate a historic moment in the United States.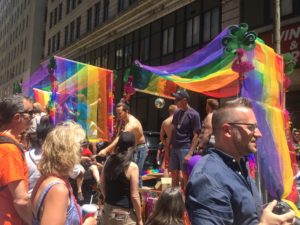 He was extremely happy to know that the country is moving forward with progressive ideas – and opening new doors for same-sex couples.
"Being part of the LGBT community, it's great to see people accepting themselves and being themselves in this country. That it's nice to know being an LGBT person in America it's something to be thankful for," Carson said, "It feels totally natural during these events and I don't experience fear and hatred – in contrast to my everyday life."
He said that the Pride Parade is a great way to celebrate new rights, although only once a year, but fun to have a celebration of the community coming together.
Carson says to him the meaning of LGBT Pride is "learning to love yourself and being comfortable in your own skin."
He also said, "I think gay marriage for the LGBT community is another stepping stone of the 'norm' of society; meaning, we're just people who deserve the same rights and respect as everyone."