Is it possible that you can do something fun with friends over the week and get a lot of exercise while doing so? It is!
At North Shore, North Park, and a new location coming on the 24th at Aspinwall, Venture Outdoors is open seven days a week. You can do many outdoors activities with Venture Outdoors. During the summer, it would be best to kayak or stand-up paddle board on the river to get a few splashes during the 80 degree weather.
Venture Outdoors was founded in 2001.
"Prior to that; it was Western Pennsylvania Field Institute, which started in 2000," says Nanci Goldberg, a worker at Venture Outdoors and fellow kayaker. And since then, Venture Outdoors has been thriving through the venturesome tourists and citizens in Pittsburgh. And more and people have been coming to Venture outdoor
Stand-up paddle boarding is relatively new, so that has something to do with its increase in popularity. If you are interested in stand up paddle boarding with friends, know that it needs a lot of upper body strength, Goldberg says. Stand-up paddle boarding is only available at North Park and Aspinwall, not at the North Shore.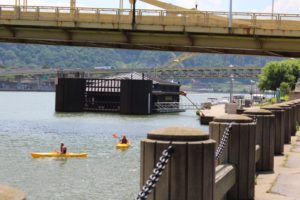 Kayaking can be done anywhere at any of the three locations. As Goldberg mentioned, Stand-up paddle boarding does "a lot of work to your core and on kayaks, you can just float."
If you're more in the mood to relax and take a look at most of the city, kayaking would be a perfect pastime. Many have a fear that the kayak would flip over while they were taking a ride through the river. But Goldberg assures that you have to be trying very hard for it to tip over. So, no worries, and even if the rare occasion that you do flip over happens, you are in a life jacket and completely safe.  
If you have never been kayaking before and the reassuring safety tip that Goldberg gave, Eric Dunn, also a Venture Outdoors worker gives the tip to "Stay calm and just go with the flow of the river." 
So all those New Year's resolutions to lose weight and be more active that you never followed through with are right here in Pittsburgh. Venture Outdoors have many exercises that are so fun that you do not even realize you are following through with your New Year's resolution.
Ralph Waldo Emerson says, "In the presence of nature, a wild delight runs through the man, in spite of real sorrows."